The Next Alpha Test is Coming Fast - June 25th!
The LawBreakers Team has been listening and we're actively exploring changes to movement speeds, the Enforcer's Aerator rifle, experimenting with different healing solutions, and more. Accepted Alpha participants should join us this Saturday to test these improvements! Check out the info below to get an understanding of everything you need to know before participating:
Alpha #2
June 25, 2016 from 10:00am to 4:00pm PDT (5PM to 11PM UTC)
Playable Content: New Improvements, Grandview Map, Overcharge Game Mode, 4 Roles (8 Characters)
If you still haven't received Alpha access, be patient - many more tests and key giveaways will happen! Remember, each player who receives an Alpha key will be allowed to participate in every Public Alpha test.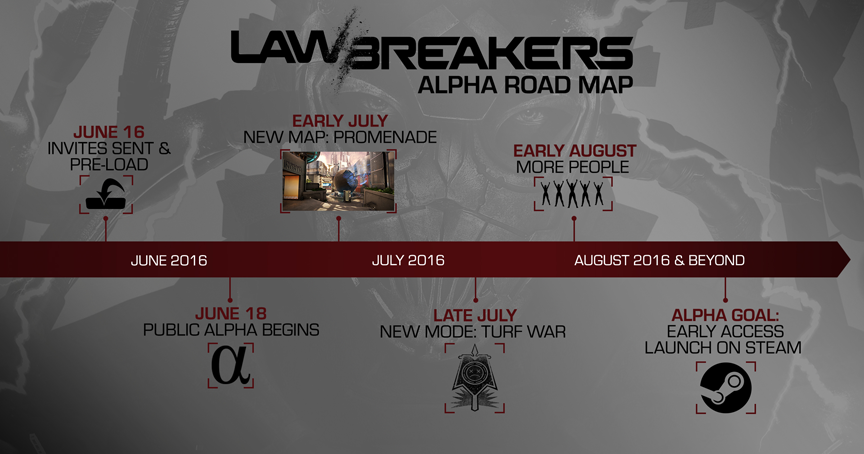 As a reminder, feedback during the Public Alpha Test period is key to the game's success. There are a number of ways to communicate problems with the game or give us ideas to improve the gaming experience. Our LawBreakers Alpha Test Forum is always the best way to provide intel. Even better, players can participate in a survey that will follow each test. Lastly, Alpha players can give their thoughts through the Discord chat app. Joining the Discord chat channel during each test allows players to provide feedback, present issues or just hang out with players and check out announcements from the development team.
Finally, don't forget to check out the System Requirements section on the LawBreakers Steam Page before redeeming an Alpha key. LawBreakers is built to run best on the recommended spec, but we would still like to hear from anyone giving it a go on a lower performing system.
As always, please feel free to tap into our Support and review the FAQ for more information. Good luck and see you in Zero-G!
Thanks,
The LawBreakers Team