LawBreakers Launch Day arrives!
It's been a long road from the very first announcement way back in 2014.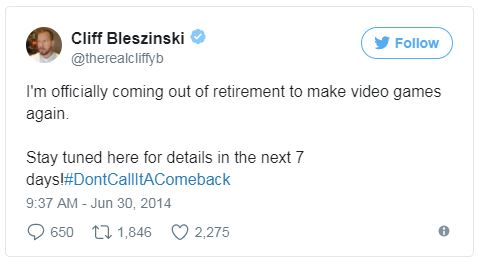 We've had 13 Alpha and Beta events on Steam and PS4™ in the last three years, with over 700,000 unique players getting a taste of LawBreakers as Boss Key Productions developed the game. And it all leads to today. Launch Day. We're excited for you to be a part of this milestone.  
Don't own the game? Seriously, go get it here!
Not only is Lawbreakers now a living, breathing online game, but it's full of new content never been playable before today:
First Week Exclusive Weapon
Early bird gets the backstab! Play in the firs two weeks after launch and you'll receive exclusive weapons for Assassin and Wraith. The Assassin nabs Kinetic Blades for her Arc Blade weapon and Wraith equips the Wasp Short Sword.
Livestream
Join Senior GM Radrodo and Lawbreakers Community Manager Lumos as they stream the game live on twitch.tv/LawBreakers. Playing on Launch Day? Tune in and see if you can get into a match and take out Radrodo. He doesn't think you can.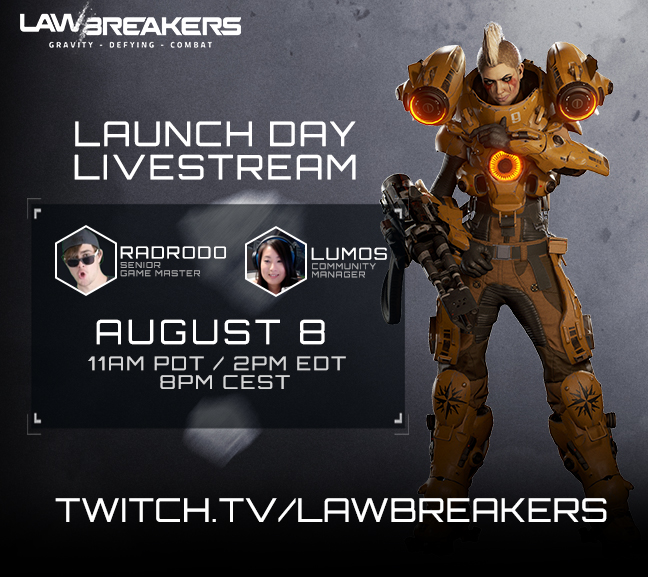 11am PDT / 2pm EDT / 8pm CEST
Harrier Joins The Fight
Available for the very first time starting today, Harrier joins the LawBreakers roster with long-range lasers and excellent movement and support capabilities. Capable of dealing a pinpoint stream of high-energy damage from a distance, Harrier also provides allies with a resupply point for them to rally towards.
New Maps
Two brand new maps have been added to the rotation: Trench and Red Falls.  
New Game Mode - Occupy
Looking for new ways to brickbat your opponents? Give Occupy a try.  In Occupy, you'll take a zone by force, and hold onto it for as long as you can, even as your opponents try to dislodge you and occupy it for themselves.
Join the Lawbreakers Community
So welcome to LawBreakers, day zero. You're invited to join  the community on Discord or share your thoughts on the forums. Or hang out with us at: Twitter, FaceBook, and Instagram.
Gird your loins, grab your weapon, and jump into the game. See you at spawn point.
- The Lawbreakers Team